OMG! Wow.  I think my mind has been blown and I'm so excited about it.  I love >CreativeLIVE<.  And if you work in media at all, CL is an indispensable resource.  The pros are extensive.  But one huge con, for me anyway, is how time consuming it is.  They have taught me so much about photography, Photoshop, business, etc… And I have been introduced to several photographers who I now admire and follow on Facebook or receive their weekly newsletters.  But as a homeschooling mother of two with an inconsistent connection to the internet I simply do not have 8 hours three, four, or seven days a weeks to attend classes for free (it's a REALLY good deal, y'all).  And I don't have $99 to purchase a class or two every week ($400-$600/month at the discounted rate [yeah, they offer that many good & interesting classes]).
This week, however, I discovered >Phlearn<.  I don't remember what I was searching on Google but that's when I found >this< video on YouTube, and I was hooked.  I watched four more video's before I had to leave and get all my errands done.  When I got back, I immediately looked up >Aaron Nace<'s Phlearn website and signed up for the weekly newsletter.  For which he sent me a link to a free tutorial (which included an image for me to practice the techniques I would be learning).  Turns out that's a 'thing' he does.  Any tutorial you get comes with an image to practice with and any of the tools (brushes, actions, etc…) used in the tutorial.  You can't even begin to image how excited I was when I discovered the image.
The free tutorial covers a wide range of techniques.  I knew how to do some of them but in a different way.  For instance, making a selection.  Anyone who uses Photoshop regularly makes selections but I had never used the Pen Tool to do it.  I'm a little embarrassed to say it but I thought the Pen Tool had something to do with writing.  Really, who would have guessed it was for making selections?  Selecting an object in an image is a task that can drive anyone to bloodshot eyes, gray hair and early balding, even an experienced Photoshop user.  But, as I discovered, the Pen Tool makes it easy to accurately select an object with lots of curves, it will just take practice (and you will see that I still need to work on it when you look at the practice image I edited as I followed the tutorial.
Another thing I really like about Phlearn, besides an entertaining instructor, is it's cost effectiveness.  Right now, there's a sale going on and a lot of the courses, that I'm interested in, range from $19.99 to $34.99 (regularly, $34.99 to $49.99), some are even less.  I like that I get to download them to my computer and so don't have to rely on an internet connection to view the tutorial.  I also don't have to worry about something happening to his website or host and losing the classes I purchased.  Plus, as I mentioned earlier, I get everything I need to practice with as I follow along with the tutorial.  I think that's the part I love most because I haven't really learned something until I've DONE it, so this is a huge plus for me.
On a side note, although I didn't get to watch it, Aaron Nace has been featured on CreativeLIVE for a >Compositing 101< Class.
Here's a look at the final result of what I learned with Aaron's "Beetle Beauty" Lesson: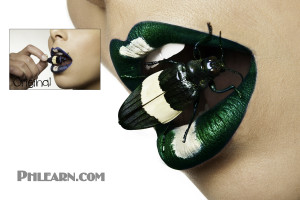 If you use Photoshop and want to expand your knowledge I highly recommend you look >Aaron Nace< up on >YouTube< and also >Phlearn.com<, he's not like watching/listening to other YouTube Photoshop Tutorial's, I promise.