A couple weeks ago I did a maternity session with Nikki in a field full of beautiful tall grass, daisies, and teeny, tiny, little flowers.  Of which the later I took full advantage having recently discovered a 'new' trick to using a 50mm lens for…my favorite type of photography, macro.  It just so happens that I learned a little about the process of using my 50mm lens as a macro over the winter during the Photography Awesomesauce Winter Photo Challenge but it was called Free-Lensing.  I took this image at that time.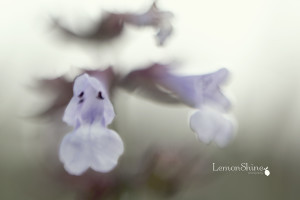 Well, the other day, I had a little free time to myself.  ("What's this 'free time' stuff you speak of?" you ask. Haha, I know!  I almost didn't think of taking pictures because I didn't know what to do.)  Anyway, I decided to play with my 50mm and get some Macro photography going.  It's real tricky though because the S.L.I.G.H.T.E.S.T. movement (think, your heartbeat or breath) will cause the image to be out of focus.  Since my lens isn't a true macro lens that meant I had to detach it from the camera body, flip it over, and hold it against the camera body to take the photograph.  With or without a tri-pod, this means there will be movement and so some undesired blur in the final image.  Oh, well.
I still had so much fun.  I thought I'd take a photo or two or three.  It turned into about 207 images!  I just get caught up in discovering a whole other world, one right at our doorsteps, that gets overlooked but it's Amazing and Beautiful! 
No, I don't have 207 images for you to scroll through, sorry.  But I did pick out my favoritests to edit and share with you.  Some of them are not macro photography, they are images I took with the 50mm properly attached to my camera and they are just as beautiful.  They are all practice and play for me and I just wanted to share, with you, the world I discovered hiding in plain sight.  I hope it is a pleasant and enjoyable meander through the great outdoors for you.