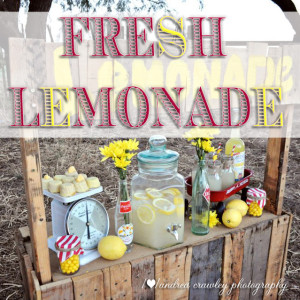 It is the final week of the Photography Awesomesauce Winter Lighting Photo Challenge 2013-2014, hosted by Carrie Swails and her site, Photography Awesomesauce.  It is through her efforts to create a community of photographers helping photographers that I have met and been helped by a number of photographers to learn and grow in my craft.  We all hate to admit it but finding helpful photographers can be more challenging than it ought to be; it can be a 'catty' business.  But Carrie believes it does not have to be that way and she is right.  If you follow my blog you have seen the series I have been doing to help you prepare for a Newborn Photography Session.  I spent months contacting photographers to no avail but through Carrie I met several well established Newborn Photographers from across the country and abroad who were not simply willing to teach me but eager and delighted to do so!  Kimberly James, Selena Stoney, Cori Delgado, Heather Fike, Sara Gheyssarieh, Lori MacConnell, and Chloe Roberts are all photographers who eagerly stepped up to help me out.  I'd have never met them without Carrie.
These 22 Weeks of the Challenge have been exhausting and hard.  But they helped teach me not only how to use certain equipment but also which equipment to get.  It forced me to buck up and make some purchases I'd been delaying, such as a shoot through umbrella and good reflectors (after all, aren't those car shades just as good?), and made me consider things I hadn't even thought of yet, like the wireless triggers (which have become one of my favorite tools and prevented me from selling my Nikon SB-600 speed light [off camera flash] since I almost never used it [I use it during many of my shoots now]) and prisms (which has spawned a home school science study on light for my kids this quarter)!
In week 1 we were asked to create a 'naturally backlit' image and mine had sun flare in it (it was there naturally, but I did jack it up a notch or two in Photoshop):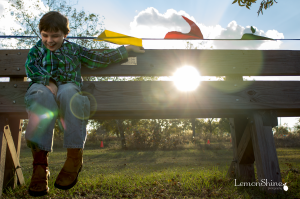 Truth be told, I tend to gravitate to and prefer bright and airy images with a fair amount of sun flare in them.  Another one of my favorites of a beautiful family which includes just a hint of sun flare: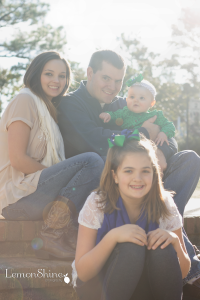 And in support of the Leukemia and Lymphoma Society's Light the Night Walk in Columbia, SC: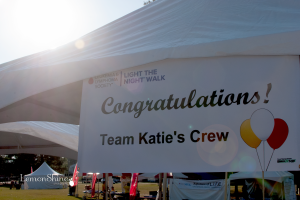 I love getting it in my images when possible.  So I was excited when Sun Flare was announced as the subject for this final week's challenge.  I'd wanted to photograph my pregnant sister in law but things didn't work out to get that done.  So I was glad I took the sunny day opportunity the week gave me….it was rainy pretty much the whole time before and after that little break, a day and a half with no rain.  I let my husband hold onto the kids this time and took off to the park for about half an hour about an hour before sunset.  (Confused yet?)  I really can't pick out my favorite so I'll share three that I especially liked:
Carrie will be selecting a winner for the challenge and I'm really hoping it will be me, but there was a lot of very good competition.  I'll let you know the outcome when I find out.  Keep your finger's crossed for me in the meantime!