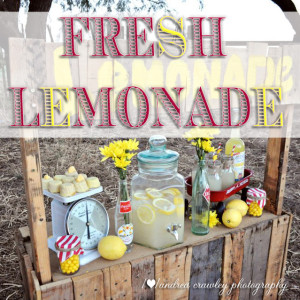 It's funny how God knows what you need and when you need it.  I don't always know what I need, or when I need it, but in this particular case, it seems, I was spot on.  I have had other photographers critique my images as "flat." For those of you who may not know, lighting has everything to do with how dimensional an image appears.  "Flat" means there is no, or maybe only minimal dimension to the image.  I have been well aware lighting was an aspect of photography in which I needed to improve.  So I set out to find a photography challenge that was specifically designed for a photographer to develop lighting techniques.  What I did not expect to find, however, was an interactive lighting challenge.  Thankfully, Carrie Swails, owner and creator of Carrie Swails Photography and Photography Awesomesauce (yes, that's "Awesome Sauce" and it is awesome), had other plans.
I know this is going to be difficult for me to keep up with because not only does this challenge require me to take photos every week but I must also create a blog post each week and in case you haven't figured it out, I'm not real good at blogging or keeping up with it.  (Okay, I hate it; even though I know it can be beneficial to my photography business).  I have been allowing my photography go by the way side and focusing all of my attention on my family – which is not all-together a bad thing.  But this past month has been plum full of photography business for me; honestly, I am exhausted and still have a lot of editing to do!  I need to figure out the right balance of wife, mother, teacher, cook, friend, photographer, AND blogger.  That, whether Carrie knows it or not, is part of the challenge for me…learning how to balance my life.
The first challenge in the 2013 – 2014 Winter Lighting Challenge is Natural Backlighting. Now, I admit my disappointment in not being able to use this image, taken the Saturday before the first challenge began, I am pretty excited about it and consider it to be the best image of that shoot.  Then, when my schedule opened up JUST enough so I could do a mini shoot with one or both of my kids, the sky became heavy with dark clouds…..NO sun.  Finally, on Saturday the sun came out to play and I was able to steal my son away for a quickie photo shoot.  My husband tagged along and helped me with reflectors.  There is a noticeable difference between an image where a reflector has been used and one without a reflector.  But if you  don't know what to look for it's not always so easy to see.  A reflector does just what you might think, it reflects.  Specifically, it reflects light back onto your subject.  It lightens the shadows (under the eyes, nose, and neck) and highlights to "high" contours (cheekbones, tip of the nose, chin, etc…).  BIG differences!
So, here it is Saturday night and I am writing up this blog post after editing my final choice (which I am proud of b/c it's my son and I took this amazing picture).  I used my husbands camera, a Canon T3i, on this shoot with an 18 – 55mm lens (yes, the kit lens!) set at 28mm.  I had it moderately open at f/4 and set the ISO to 100. It may not have been the best setting for the time of day, maybe 400 would have been nicer, but 100 is what I was working with when I snapped this image; Photoshop helped with anything I didn't like. 🙂  I also set the shutter speed at 1/100.  I tried a couple different settings for my shutter speed but 1/100 seemed to work the best and that's where I had it for this image.  The sun, as you can see, is ready to tuck itself away for the night under the horizon but is lingering between the slats of the park bench just long enough for me to capture this wonderful image.  His daddy has just told him the corniest knock-knock joke, his favorites right now.  It's easy to see he really gets into the business of laughing! *You can click on the image below to enlarge it in another tab.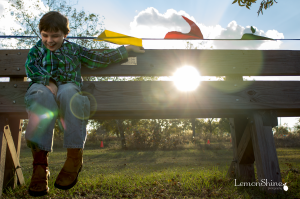 It is my intention to participate each week in the Photography Awesomesauce Winter 2013-2014 Lighting Challenge….there is a prize I may win if I can manage to enter an image AND a blog post each week so I'm gonna' try!  That means there will be at least one new image on this website each week along with an accompanying blog post, so come on by, check out the image and post, and let me know what you think.
See ya' next week,
~Katie